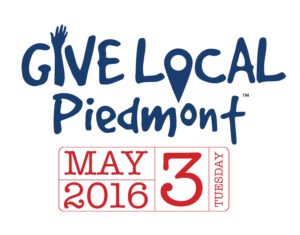 Hosted on Tuesday, May 3rd by the Northern Piedmont Community Foundation, Give Local Piedmont is the community's one-day, online giving event to inspire people to give generously to the nonprofit organizations that are making our region stronger, creating a thriving community for all.
It's our day to come together as one! Every dollar donated from midnight to midnight on May 3rd will be increased with additional "bonus" dollars generously provided by the PATH Foundation and prize dollars from sponsors.
Built on successful models from other cities, Give Local Piedmont raises money for the community, brings new donors and awareness to local nonprofits, and helps make our region a more vibrant place to live. Give Local Piedmont is tied to a national event called Give Local America where community foundations across America are asking their communities to give back on May 3, 2016.
To support Culpeper Literacy Council on Tuesday, May 3 please click the link in the right column. This will take you directly to the GLP website. Use the search box (upper right hand side) type, Culpeper Literacy Council and complete the giving form.
Thank you for your continous support of Culpeper Literacy Council!